Register for your free one day pass to Inside Retail Live 2018
January 18, 2018
Inside Retail Live – Festival of Retail Ideas are offering retailers a free 1 day pass (limited availability) to their 2018 retail trade event. The free pass gives you access to all sessions on any day of your choice, a fully catered lunch and access to the exhibition space. Click here to book your free pass.
The event will be from Feb 28 – Mar 2, 2018 at the Melbourne Convention and Exhibition Centre.
TCS BI will also be exhibiting at the event. Visit us at booth #57.
In this 30 second video we discuss what we will be showcasing at the event:
Our team will be on hand (Booth #57) to explain how our people counting and visitor monitoring solutions benefit the retail industry. We will also have live demonstrations of our cloud-based analytics program,  Acumen³ and our visitor engagement technology, My Say Survey.
ABOUT THE EVENT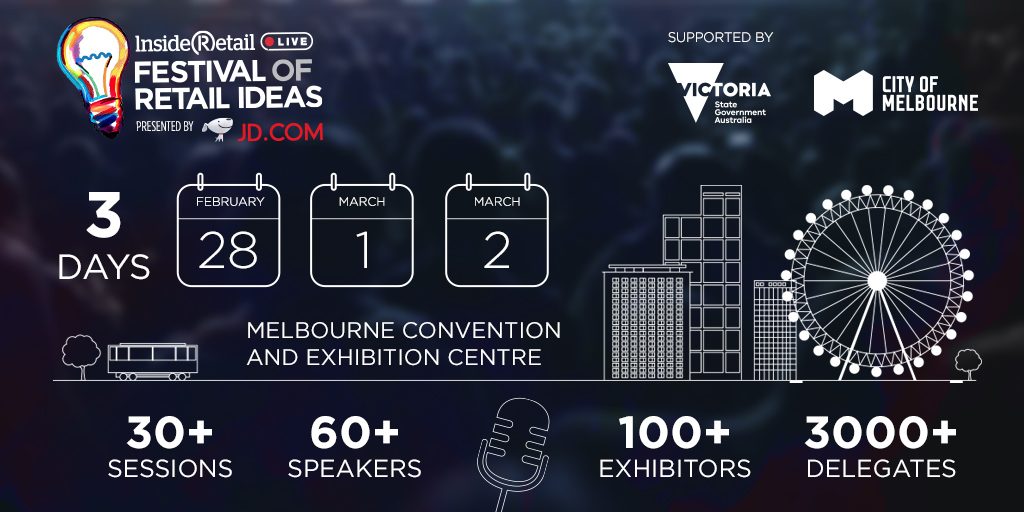 Inside Retail Live – Festival of Retail Ideas will have various industry experts, including international guests, covering a variety of topics.
On the Wednesday Feb 28 speakers will be providing industry insights into the current state of play in the Australasian retail market and abroad. Some of the topics of discussion include trail trends, emerging business trends, innovation and leadership. Specific talks will cover:
Industry mega-trends and disruptors
Changing consumer behaviours
The evolution of retail
How to reinvent retail in an age of digital disruption
Business models disrupting retail on the global stage
Emotional intelligence and leadership qualities.
On Thursday March 1 speakers will be covering marketing and branding, workforce and HR, logistics and the customer. Some of the topics will include:
The what, why, and how of experience
Converting social media followers to dollars
Why supply chain may be retail's biggest game changer
The future shopping centre experience – what you need to know.
On Friday March 2 speakers will discuss the China market, the future of retail and how to be a purpose driven business. Some of the talks will include:
Three different approaches of companies selling through China's online market
The next generation, who, what, where, why
Social giving and sustainability – how to create profits and good
How to create a meaningful brand.
To find out more about this event visit insideretail.live
---
Categories: Analysis, People Counting, Visitor Engagement